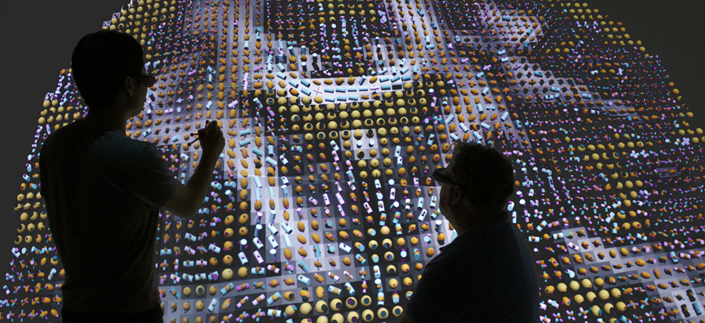 Our Mission
To imagine the future, inventing and creatively employing new computer tools for the benefit of society. We use interactive computer graphics, data-processing algorithms, and radical new computer input-output technologies to address challenging problems in data understanding, digital design, and art. We work in an interdisciplinary, collegial, collaborative atmosphere, where outstanding students partner with faculty to conduct research integrated with education.
Our vision is a world where all human-computer interactions are created mindfully and where these interactions fundamentally make people better. To contribute to this vision, we aim to be a leading, internationally recognized academic resource for generating and disseminating new knowledge, specifically new understandings of the complex and interconnected relationship between humans and computers.
Research
Our research centers on data visualization, computer graphics, and human-computer interaction. Current projects include visualization of large-scale time-varying data, 3D modeling in virtual reality, and creativity-support tools for complex design tasks. We are committed to reproducible science. In addition to traditional publications and presentations, we also release all of the software we develop to the academic community via open source projects. Our work is supported by the National Science Foundation, the National Institutes of Health, the National Academies Keck Futures Initiative, the University of Minnesota, and industry partners.
The Lab
Our research group includes about 10 undergraduate and graduate students. Our lab in 2-203 Keller Hall is equipped with high-end graphics workstations that drive a series of innovative visual displays and interactive devices. Major equipment includes a 4-wall CAVE Virtual Reality display; a Multi-Surface, Multi-Touch Virtual Reality Environment; and a 3D Haptic (Force-Feedback) Display. We also work regularly with the visualization facilities at the Minnesota Supercomputing Institute.
Contact Info
Daniel Keefe, Ph.D.
Email: keefe (at) cs.umn.edu
Office Phone/Fax: (612) 626-7508
Lab Phone: (612) 626-7500
Mail: 4-192 Keller Hall, 200 Union Street SE, Minneapolis MN 55455
Directions and Parking Information
Building Location
The Interactive Visualization lab is located in room in Keller Hall on the University of Minnesota East Bank, off of Union St SE. Information on getting to Keller Hall can be found below. For more information, visit the
University of Minnesota information page on Keller Hall
Lab Location
In Keller Hall, the ground floor is the third floor. Once you go into the main door of Keller Hall, take the elevator in the lobby down one level to get to the second floor. Go to the right as you walk out of the elevator. Turn left at the first hallway intersection, and continue down the hallway to room 2-203, which will be on the right.
Parking Location
The nearest parking ramp to Keller Hall is the Washington Ave. parking ramp.